Are you an entrepreneur or managing a team?
Manage your business and your team simple and smart with Daylite
"Why does Daylite make your business life easier? Very often, small business owners and medium-sized companies have to wear many hats at the same time, which can get out of hand and become a real problem, especially when projects are getting stuck under an ocean of tasks and the overview is lost because data has not been stored in a comprehensible way.
Managers who supervise different areas very often need to keep track of countless projects and monitor tasks and deadlines that need to be completed. On top of that, when inquiries from clients, potential clients or higher-level departments come in, it often becomes very difficult to maintain an overview and work efficiently.
Therefore, it is essential to work with professional IT support and the best software right from the start.
Our favorite app "Daylite" supports you as a CRM and project planning tool. And best of all, Daylite was developed specifically for the Mac and iOS ecosystem."
Topics and contents of this page – how to get there fast
A Powerful CRM and Project Management App for Mac, iPhone and iPad
Organize your business, your projects and manage customer acquisition from anywhere on your Mac, iPhone and iPad. With smart features and tools, Daylite simplifies your workflows and makes more of your business. All your communications, documents and calendars are linked and managed. Your business becomes agile and you can easily access all your data in one app , and if you are offline, you can continue to work thanks to the Daylite offline database.
Daylite is this easy - see for yourself in the livecast
In a free webcast, we'll show you how to use Daylite effectively for your business and show you all the features in a live demo. Medienreife's experts will answer your questions and will also be there for you if you are already using Daylite. MedienReife helps companies plan, integrate and support Daylite. We'll also be there for you after the fact to show you how to get more out of your CRM.
Book a free live demo now and learn more about Daylite – the leading CRM and project management tool for small businesses.
Of course, you can also try Daylite yourself for 14 days free of charge. If you like Daylite, our experts are here to coach you and your team.
What is CRM and how does it benefit my company?
Even though "CRM" is an old-fashioned abbreviation for "Customer Relationship Management", its concept is as up-to-date as ever. This refers to tools that help companies manage their customers, prospects and appointments, and document communication and negotiation statuses. At the same time, there are many solutions that can do much more than simple contact management. The range of functions extends from calendar solutions for teams and task/project management to integrations in websites.
What can Daylite offer you?
Are you self-employed or managing a whole team? Great! Here we'll show you how Daylite can help your business grow.
Not only Daylite allows you to manage all relevant information from clients and suppliers, but also helps you to track all communications exchanged in chronological order, making it easy for you to search for key information in a matter of seconds.
During our call, we will show you a live demo of how you can effectively use Daylite as a CRM for your business.
The best CRM features for your Mac-based business
Daylite – Your essential small business app for macOS and iOS. With Daylite, you can simplify your work processes and access all your data all in one. place.
Linking
Daylite allows you to map and better understand complex client relationships, and allows teams to have a holistic view and access information in a unique way.
Daylite keeps track of complex client relationships and helps better understand client interactions and other details through flexible record linking. Emails, notes, tasks, projects, appointments, and other records can be linked to existing contacts in Daylite, allowing teams to have a quick and clear view of an organization's structure and access information in a unique way.
Daylite calendar
Daylite not only helps you keep track of your appointments, but also allows you to see your team's appointments in the "All Calendars" feature to schedule meetings. Daylite informs you directly if there are any overlapping appointments.
In addition, you can also link necessary data and information to each appointment, giving your team access to only what they need, taking your and your client's privacy into account.
Daylite calendar uses CalDAV, which allows you to manage your appointments in other calendar apps, such as Apple or Google Calendar. ou can also integrate external calendars with Daylite so that you can manage your entire schedule within one tool.
With iOSXpert's "ProductivityTools" plugin, the "Acuity Scheduling" booking application can be connected with Daylite, making it child's play to offer appointments online as well.
People and companies
Daylite offers a "Details & Activity" overview for each contact and record, where you can see all important information like phone numbers, addresses , emails and much more at a glance. In the timeline, you can track all transaction data in chronological order.
You can display the exact person and role relationships, structure of departments and branches, and create custom fields for customer numbers, contracts and much more.
Daylite offers the unique ability to link and relate each record, so you can track everything from the first conversation with the decision maker to the sales meeting to the signed proposal.
Smart lists
With smart lists, you can create different lists across all the data in Daylite. How do your ABC customers break down? Which sales opportunities are still open? What tasks are coming up this week? Daylite makes it easier to classify contacts, opportunities, tasks, projects, and more, by simply applying keywords, categories, and other criteria. Small business owners and team members can also save these filters as "Smart Lists" and have dynamic lists that update automatically when contact information changes and match the criteria.
Free initial consultation & live demo for your business
Learn how you can use Daylite for your business and try it for 14 days for FREE. Just book an appointment for our webcast and watch the live demo. Of course, the experts from Medienreife will advise you and answer all of your questions.
Daylite Webcast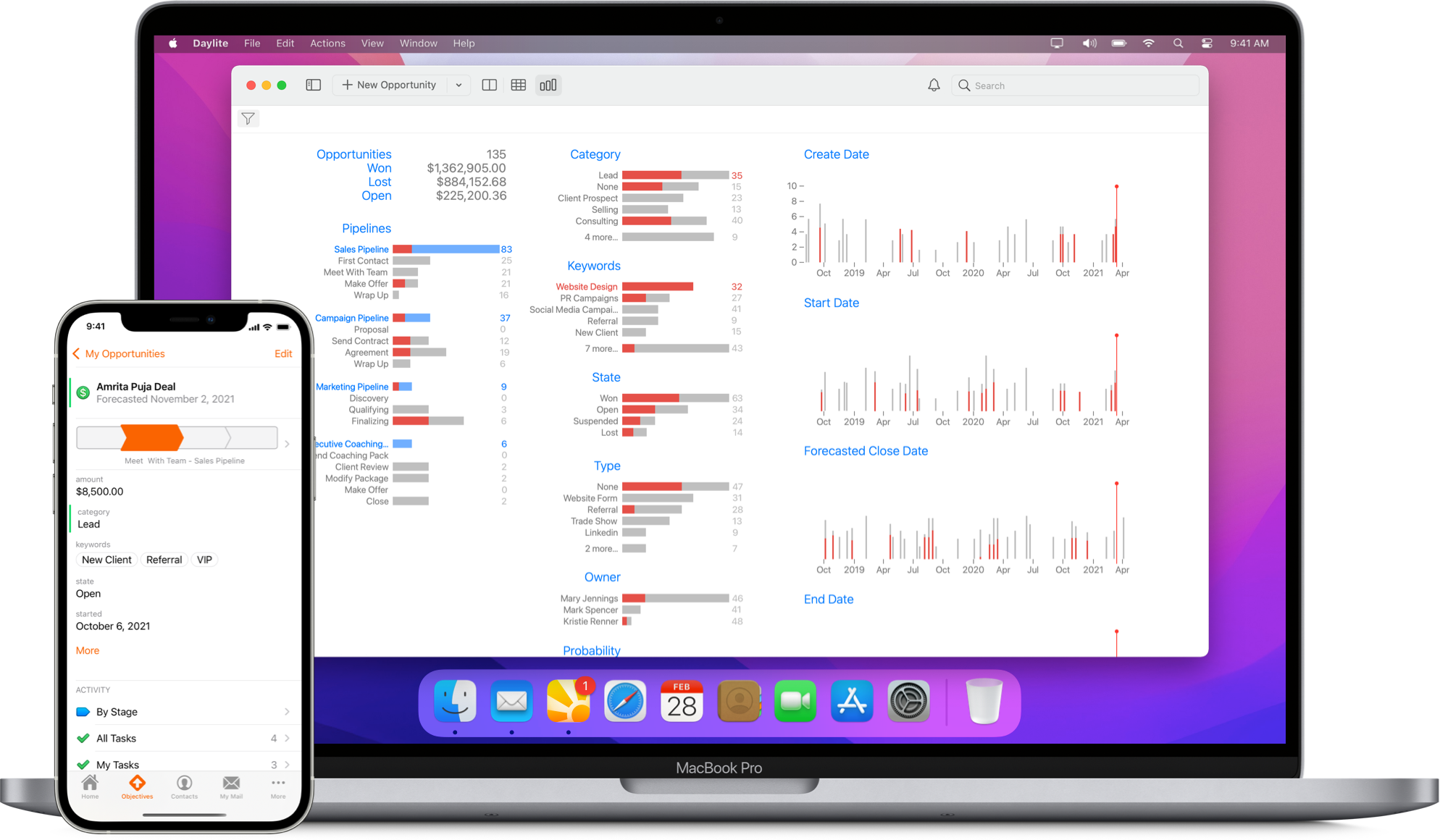 Daylite Opportunities Board
The Daylite Opportunities Board is the ultimate tool to take control of your sales. You can visually track your entire sales process in Daylite, from the initial contact to closing the sales. You and your team can easily access and review the full history of each sales opportunity, so everyone in the team can catch up from where they last left off and easily engage with the customer again.You can also create an estimate and quote within an opportunity.
Since a lot can change during negotiations, the Opportunities Board allows you to track the status of your sales across your whole team so you can prioritize which sales to focus on.
Within each pipeline, you can create different stages such as initial contact, send offer and closing and provide them with predefined deadlines and tasks. This way you won't forget any step in your sales process.
How does Daylite help map out every project and sales opportunity that comes your way?
Every company has unique processes and structures for project management and sales strategy. Your Medienreife experts will show you how to best use Daylite for your business and set up workflows that best fit you and your team.
Book a free consultation with us! You can watch our free regular webcast, where we introduce you and your team to the basic functions of Daylite or schedule a live demo where we showcase the individual Daylite features and possibilities, including key workflows for your business. In this demo, our experts take the time to answer all of your questions and help you easily manage your business with Daylite and the Apple ecosystem.
Manage more projects with Daylite
For many businesses, closing a deal is just the start of the journey with your client . Daylite's robust project management functionalities enable you to keep track of all the details, documents, and communication. From each project in Daylite, you can view a chronological history of all the emails, notes, appointments, tasks, and documents.
Bundle all relevant project data in one place, link project members, partners and suppliers and define the responsible roles of each person. Set your milestones and use the pipelines to prepare for recurring projects.
If you need to keep of time and expenses to determine time and effort spent on projects and to work with budgets, iOSXpert's plugin "Time&Budget" allows you to accurately monitor the time you spent and create reports for internal use. In addition, it also helps you send invoices directly to the customer.
Task management
​​Group your tasks by project, organize them by category, or sort them by due date. Daylite gives you many ways to organize and stay on top of your tasks. The Work List feature is inspired by David Allen's best-selling book Getting Things Done, but can be customized for many other efficiency and productivity methods. Stay on top of your task lists with reminders, due dates, priorities, or delegate tasks to team members. You can even link all relevant information directly to the task in Daylite.
Daylite is a native Mac application.Apple enthusiasts who are already familiar with and love the design of a proper Mac app will have a head start when learning Daylite.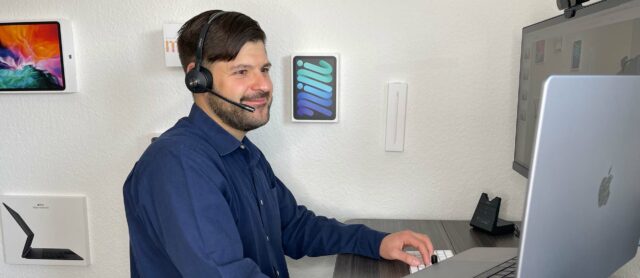 IT Business Coaching & Support for Daylite and your IT
Medienreife's IT business support helps you integrate and automate a CRM and project management tool that fits your business needs, so you can concentrate on the important things in your business and work effectively.
Medienreife offers you not only integration and training, but also full support and is there for you if you have questions or need help. Our experts are connected via remote desk sharing and help you.
… or get advice and find out in a non-binding and free initial consultation how our experts can help you and which offers are best suited to you and your company.
Integrations and extensions for Daylite
Daylite is built exclusively for Mac, iPhone and iPad. Daylite integrates with Apple ecosystem like no other application.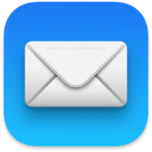 Daylite Assistant with Apple Mail
One of Daylite's most powerful and popular features is Daylite Mail Assistant (DMA), a direct integration with Apple Mail that allows teams to capture important details from emails and link them to people, projects, appointments, notes, tasks, and more.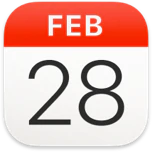 Calendar & Appointments
Through the CalDav standard, you can manage your Daylite calendar in other apps as well as display other calendars like iCloud or Google calendar in Daylite.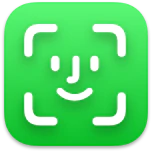 FaceID & TouchID
Protect your business data with FaceID & TouchID on iPhone and iPad.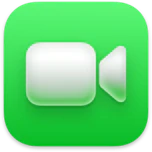 FaceTime & Caller ID
Not only can you start calls directly from Daylite, but with Apple contact sharing you can directly see which Daylite contact is calling you.
Start now with Daylite and get more out of your business
Learn more about plugins and Daylite+ from our partner iOSXpert. We work closely with iOSXpert's teams to ensure you have full support every step of the way when using and taking advantage of the countless possibilities that Daylite+ and Daylite's plugins can offer, or even when you need a custom individual solution.
Daylite training and support
When it comes to offering training and support throughout your journey with Daylite, our main priority is to provide the latest, top-notch quality service and training. That's why we work closely with Marketcircle and the team at iOSXpert to stay up to date with the newest developments and important updates, so we can always offer advanced and accurate training. Thanks to that, in our live demos, we can introduce you to Daylite's functions and key workflows for your business, answering your every question and showing you how to make the most out of Daylite and the Apple ecosystem.